Piz Bernina
Piz Bernina with its front peak Piz Alv or Pizzo Bianco (3996m), is the highest mountain of the Grisons alps and the only 4000 summit in the east alps. The highest spot is entirely on Swiss territory. The frontier crosses over the shoulder (it. la Spalla, 4020m), roughly 200m at the south of Piz Bernina.
This striking mountain boasts three prominent ridges:
The N-ridge, known as « Biancograt », offers one of the most famous climbs on a 4000m and therefore is dubbed the heaven ladder.
The S-SE ridge known as "La Spalla" is the standard and consequently the most climbed one from Rifugio Marco e Rosa.
The E-ridge (first ascent) was qualified until 1914 as a normal route, today is rarely used.
Piz Roseg
Piz Roseg is one of the most beautiful summit in the Bernina massif.
It offers from all sides impressive views. The double peak, the snowtop (3920m) and the main summit (3937m) from the frontier comb, which exhibits three striking ridges:
1. The NE-ridge up to Porta da Roseg
2. The Northeast-ridge known as the donky ridge 
    (Eselsgrat) and the most used ascent fom the
    Tschierva hut
3. The SW-ridge up to Fuorcla de la Sella
4. The Northeast-face is one of the most famous
    ice-face and is often climbed when weather
    conditions permit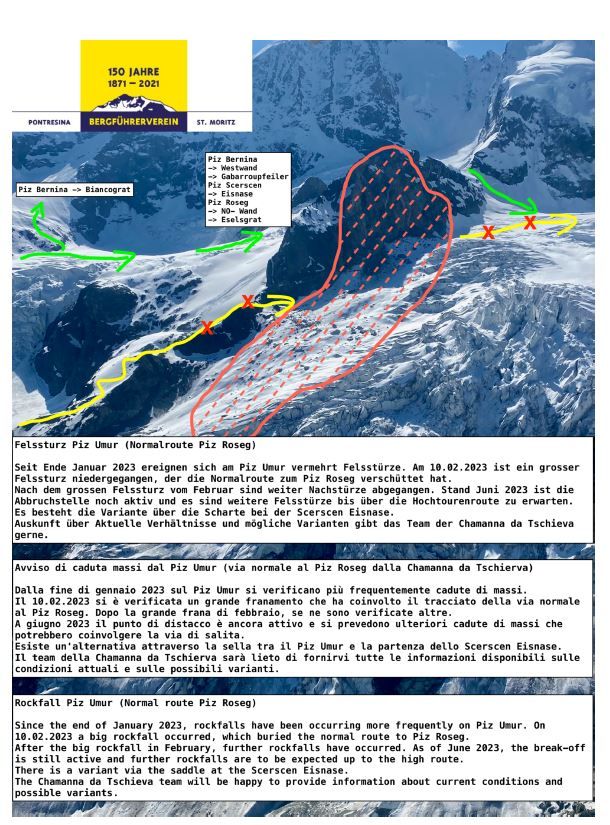 Piz Morteratsch
Piz Morteratsch is a most visited mountain view in the centre of the Bernina group.
On the Boval side the summit glacier builds up a mighty ice balcony with two perfectly visible rocky ridges, the left one is the Spraunza ridge. From the Tschierva hut side the Piz Morteratsch is less impressive and exclusively rocky.
Piz Scerscen
High, ambitious and extremely lonesome, that is Piz Scerscen.
Between the highly frequented Piz Bernina and the often wolked on Piz Roseg, the medium of the three ice giants lives in the shadow. Only when referred to the member of walk-ons, technically and climbing difficulties, the lonesome giant has a lot to offer, especially the ice nose.
Piz Tschierva
The highest hiking peak of canton Grisons is the Piz Tschierva, only a few persons know that.
Due to its situation on the peak, you have an uncomparable panorama, especially impressive is the view on the three wild Piz Bernina, Piz Scerscen and Piz Roseg.